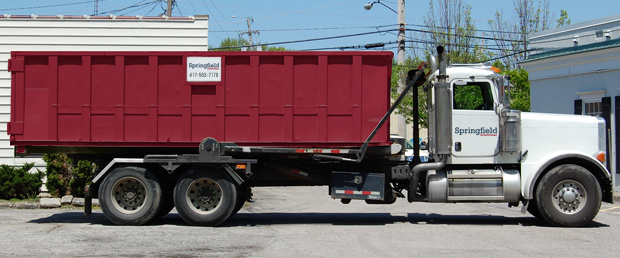 When you are looking for a Springfield dumpster rental, there's no need to compromise because we offer everything you need. Our customer service representatives can help you get the best price and the perfect size roll off for your upcoming project. All you need to do to place your order for a roll off dumpster is to call into our office and speak with one of our many friendly representatives. Whatever you need in terms of waste removal, we're always here to help!
Why Rent with Our Company?
When you rent from Springfield Disposal you are assured to be renting from a reputable company. All of our prices are 100% transparent and we do our best to be completely upfront in all of our business practices. If you have any questions about our terms of service or the price you are quoted, we encourage you to call in to our office. We will always do our best to provide our customers with the best customer service in the dumpster rental industry.
There is no need to call around to 5 or 10 different companies and compare prices because we've already done that research for you! We are constantly checking up on our competition to make sure we have the best deals on Springfield dumpster rentals. If you do find a better price for a dumpster rental in Springfield, make sure they include all taxes and fees into their price so you can be assured you won't be hit with surprise charges at the end.
Another great aspect of our business is the fact that we can deliver dumpsters to most residential and commercial locations in and around Springfield. We've delivered dumpsters to houses, shopping malls, grocery stores, privately owned businesses, and much more. As long as you have the space for a dumpster, we should have no issue getting a dumpster out to you. Give us a call today and we can have a dumpster sent to your property in about 1-2 business days.
Who Uses Dumpsters?
As a dumpster rental company, we've rented our containers for almost every type of project you can imagine. If you have a project in the works that may require a roll off rental, we can help. We offer dumpsters ranging in size from 12 yards to 30 yards and they can handle a wide variety of waste materials. Whether you need a dumpster for your landscaping project or because you're cleaning out an office building, we have a dumpster perfect for the job.
Our dumpsters can handle both construction waste, as well as household debris, but some of the prohibited items include things such as hazardous and flammable materials. If you need to dispose of these types of items we recommend making an appointment with the Household Chemical Collection Center in Springfield. If you have any questions or concerns about what can and cannot go into your dumpster, feel free to give us a call. It is always better to be safe than sorry when it comes to what isn't allowed in your dumpster.